Personalization & Products
Personalization isn't just about honoring your loved one's individuality. It also allows family and friends to feel connected to the services and the life being honored. We work closely with you and your family to get to know your loved one's life story so we can make their services as personal as possible.
Personalized Stationery
Our high-quality stationery sets have more than 500 themes you can choose from to honor your loved one. You can view our collection online or we can help you find the perfect theme during our arrangement conference.
Life Tribute Videos
We'll create a one-of-a-kind Tribute Video by combining family photographs, music of your choice, and professional effects to share your loved one's special journey during the service. This video also is available as a DVD and meaningful keepsake after the ceremony is over.
Crescent Memorial Urns
A keepsake is a great way for each family member to keep their loved one close. Often keepsakes are shared with all family members and close friends to remember their loved one and to celebrate their life.
Click Here to view our Urns Catalog
---
Other Merchandise
We also offer a wide range of products, from beautiful memorial products to unique urns. If you have any questions about the items you see below, please feel free to get in touch with us. We'll be happy to answer any questions you may have.

SELECT FROM THE CATEGORIES BELOW TO VIEW OUR WIDE RANGE OF PRODUCTS


Single Granite grave markers can be placed in almost any block of our cemetery (except block 15 which requires bronze markers). Markers and vases can only be purchased by (or with the permission of) the lot owner (the person who purchased the grave). Please contact our cemetery office for an appointment if you are interested in purchasing a grave marker or vase.
Metalcraft Vases
Single Granite Grave Marker
Aluminum
Biodegradable
Brass
Bronze
Cloisonné
Cultured Marble
Cultured Stone
Howard Miller
Marble
Porcelain
Synthetic
Wood
18 Gauge Steel
20 Gauge Steel
Alternative
Copper
Hardwood
Stainless Steel
Keychain
Necklace
Pendants
Basic
Bronze
Copper
Premium
Standard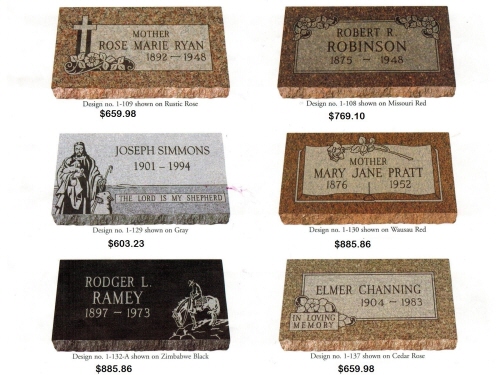 Grave Marker
Any design can be placed on any color headstone and can be personalized to fit your family's wishes- price varies based upon the color of the granite stone.  Vases are available for an additional cost.  Please contact Highland Park Cemetery at 913-371-0667 for more information.
Prices start at $603.23 and include standard engraving, setting fee and tax. Price inccreases depending on the color of the stone and additional decorartive engrving.  Engraved or porcelain photos can be added for an additional cost.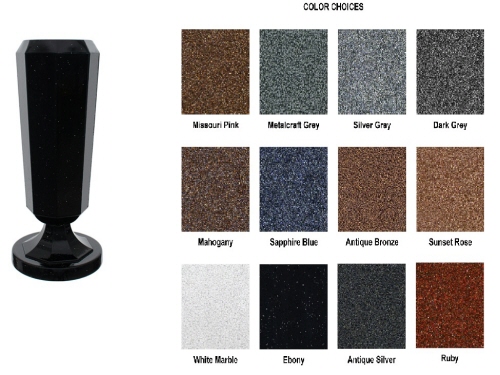 Vase
Metalcraft flower vases are available in a variety of designs and sizes, each as stylish and elegant as the next.  They are as strong as they are beautiful, thanks to the die-cast aluminum construction and exclusive coating process which adds exterior durability without compromising beauty.  It is this commitment to quality and a dedicated craftsmanship that makes Metalcraft vases stand out among all others. Available in a variety of colors.
$242.79 includes setting fee and tax.
Price: $242.79